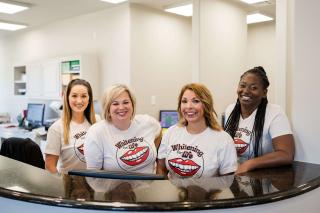 Looking for a new Baton Rouge, LA dentist? Read more about College Family Dentistry's commitment to high quality, compassionate dental care.
A visit to the dentist is a very personal thing. Entrusting your oral care to someone is not to be taken lightly. At College Family Dentistry, we understand just how intimidating it can be to sit in that dental chair under the care of a new dentist. New patients will find our Baton Rouge, LA dentist team to be comprised of caring compassionate people wo are dedicated to providing you with the best in oral care.

Our Baton Rouge, LA dentist office is designed to help you feel at ease and comfortable. Anything we can do to make your time with us pleasant and enjoyable is a priority for us, whether you want to chat about oral health or struggle with dental anxiety and need sedation dentistry services. If you are new to the area or just looking for a Baton Rouge dentist office where the people are caring and the service is of the highest caliber, you will find that and more at College Family Dentistry.

We welcome new patients and look forward to giving you the best in oral care. From comprehensive oral exams to help you achieve your best smile through cosmetic dentistry, we do it all with your comfort in mind. New patients will be interested in this information:

Too many people put their dental health on hold for a variety of reasons. One of the big reasons is fear. We take that into consideration at College Family Dentistry. With the use of high-tech dental instruments and a gentle chairside manner along with our serene atmosphere, your fears are put to rest. Challenges should not be a barrier to receiving the dental care you need to reach your optimum oral health; especially not when you consider that oral health is vital to general health.

Contact our Baton Rouge, LA dentist office today to schedule an appointment as a new patient and talk with us about your concerns and we will work with you to ensure that your visit at College Family Dentistry is as comfortable and productive as possible.